Daito's Drilling Coping machine DCM1000 is a multi-tasking machine combining a CNC Drill (with 3 spindles), a CNC Robotic Coper for standard or complicated plasma cuts, and a marking machine for part number marking and welding / layout marking.
Various Profiles
Daito's Drilling Coping machine DCM1000 is amulti-tasking machine combining a CNC Drill (with 3 spindles), a CNC Robotic Coper for standard orcomplicated plasma cuts, and a marking machine for part number marking and welding / layout marking.
Each drill has an automatic tool changer to cover tapping, milling, chamfering holes and boring blind holes.
The wide range of functions make the DCM the most versatile machine for non-repetitive structural steel processing.
Variety of Processing
Conventional structural steel processing automation includes substantial human manual operations.
Such as various markings, fusion cutting, tapping and milling.
These human / manual operations are now automated by DCM1000 and already completely scribed / marked.
Features
8 axes robot cell comprises of 6 axes of the robot and 2 axes of the moving robot base.
The automatic chip blower functions detecting workpiece by the laser sensor.
The torch rotates freely to avoid the stress of connected hoses.
While the torch is working, the slide conveyors escapes from droth messup.
Feeding System
The feeding system comprises of a pinch roller, a shuttle vise and a push bar;
each part functions differently depending on different workpieces and processes.
Four Sides Marking
With marking tools, the layout markings of product codes and welding positions are available including bottom web.
Hybrid Workfeed System
Daito's built in pinch roller system will pull the material,so even slightly bowed material is easy to handle and extremely accurate.
Only last 2000mm is handled by the feed bar.
Reclaim Your Workshop
As the work feed mechanism is built into the machine, the workpieces can be suppled from both sides of the roller table and is not affected by a carriage system.
Drill VS Cope
DCM1000 optimizes its operation using both drilling and coping in accordance with different processes.
Angle Processing
Daito's original angle processing is free from angle deformation caused by vise clamp;
plasma cut is made from outside; no collision or damage is expected.
The drilling position is accurate due to the support roller very close to the hole.
Extra Strong Clamping
Less vibration and longer tool life, better accuracy and higher productivity.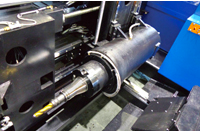 Direct Drive Spindles
3 spindles with direct drive built-in motor enables a quiet, accurate, powerful and stable drilling / milling condition.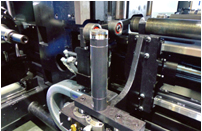 Under Web Support
The unit also functions as a height gauge and a bottom scratcher.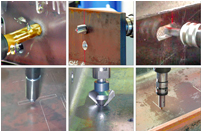 Auto Tool Changer(ATC) for each drill
Each drill unit has a tool magazine for holes of different diameters, tapping, milling, chamfering and marking. The tools are replaced automatically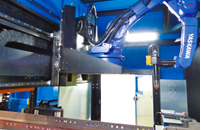 8 Axes Robot Cell (6+2)
The latest 6 axes MOTOMAN robot, plus the 2 axes MOVING ROBOT BASE expands the plasma torch reach. This improves accuracy of the positioning by avoiding full stretch of robot arms.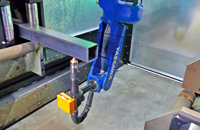 Underside Cutting / Marking
The robot torch can fully cut / mark all four sides, including the underside of a workpiece. Plus when cutting box tubing we only have 2 pierces, which saves tool life.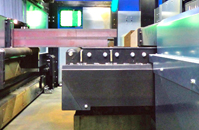 Sliding / Lift-Up Roller Table
The powered roller table goes out of machine escaping dross for cutting; comes back inside to lift up even deformed workpiece for work feeding.
4 Work Feed Rollers
Four work feed rollers are linked together so heavy workpieces can feed smoothly and accurately.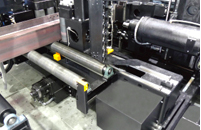 Sliding Saddle
The pinch rollers loaded saddle slides back and forth to follow up the work feed enabling very accurate positioning.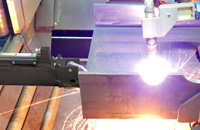 Last Cut Function
Ensures the workpiece can be accurately fed through the machine and the entire length can be processed with out waste.