Bending
Warcom Bending and Cutting Solutions PDF Flyer

---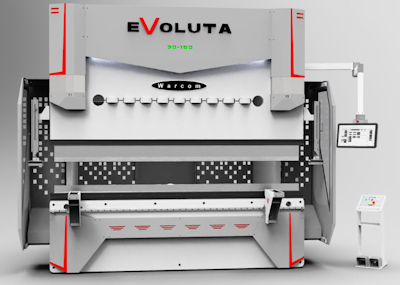 EVOLVED
EVOLUTA radically revolutionizes the bending process, establishing itself as a new point of reference for those who look to the future.
The study and design of the EVOLUTA press brake had the fundamental objective of creating an innovative press brake with an application of the technologically UNIQUE bending process.
Thanks to the FCS (Full Compensation System) technology with double automatic compensation in "real time", you will obtain perfect bending results.
The evolution of the hydraulic unit allows to obtain high performance of movement of the ram reaching approach and return speeds of up to 220 mm / sec.
EVOLUTA is equipped with increased opening and stroke, CAN / BUS communication system, heat exchanger, standard silenced pump and the 21 "TALENTO CNC touch screen.
Thanks to all these solutions, the uniformity, repeatability and flatness of the folded sheet metal profile are ensured with any type of material and thickness.
The EVOLUTA press brake is made with high quality components and materials and characterized by a refined design, a guarantee of made by WARCOM.
---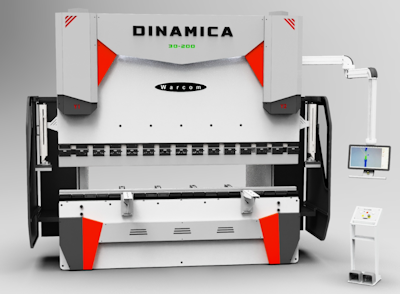 DYNAMICS
The DINAMICA synchronized hydraulic press brake is characterized by an elegant design with attention to every detail and is a product made for the most demanding customers who need an ergonomic, functional, precise and fast bending machine.
It is an ideal machine for contractors, service centers, industrial carpentry and for all those who need high productivity and quality.
DINAMICA is equipped with increased opening and stroke, CAN / BUS communication system, heat exchanger, standard silenced pump and the 21 "TALENTO CNC touch screen.
---
FUTURE
The FUTURA series has a range of models from 40 to 1500 Ton and is completely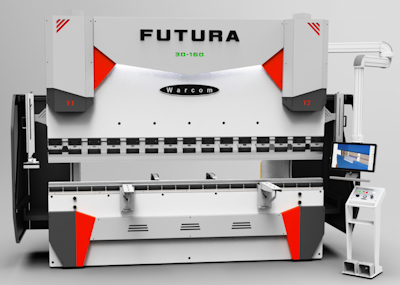 customizable. The structure is monolithic up to the dimensional limits allowed by transport on conventional vehicles. In other cases the structure is assembled and bolted.
With 20 years of service that make it exclusive in the bending sector, FUTURA is Warcom's workhorse with excellent reliability and an excellent quality / price ratio.
FUTURA is equipped with a TALENTO 21 "touch screen control and is the ideal product for medium-heavy carpentry in the metal construction, earth-moving machinery and industrial installations sector.
---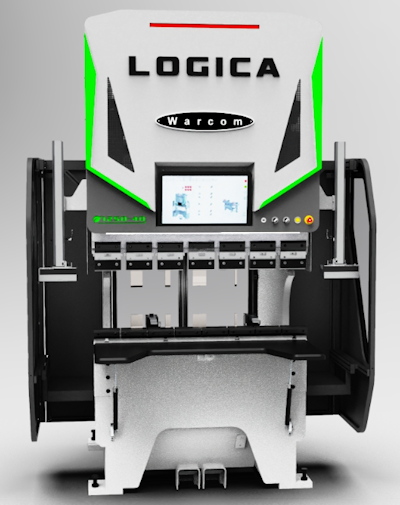 LOGIC
LOGICA is a state-of-the-art electric press brake, available up to 130 TON. thrust. Its revolutionary system of direct transmission between motor and ram, without further mechanical transmission organs, makes the system extremely reliable, precise, efficient and silent, with a speed and reliability superior to any other kinematics.
It features ram positioning accuracy of +/- 0.0025mm – twice as accurate as a traditional hydraulic press brake, achieved using frame-mounted optical scales that eliminate frame bending interference.
LOGICA is equipped with a TALENTO 21 "touch screen control.
It is an ideal machine for bending small sheets, with great performance, high repeatability and a careful look at design and consumption.
Cutting
Warcom Bending and Cutting Solutions PDF Flyer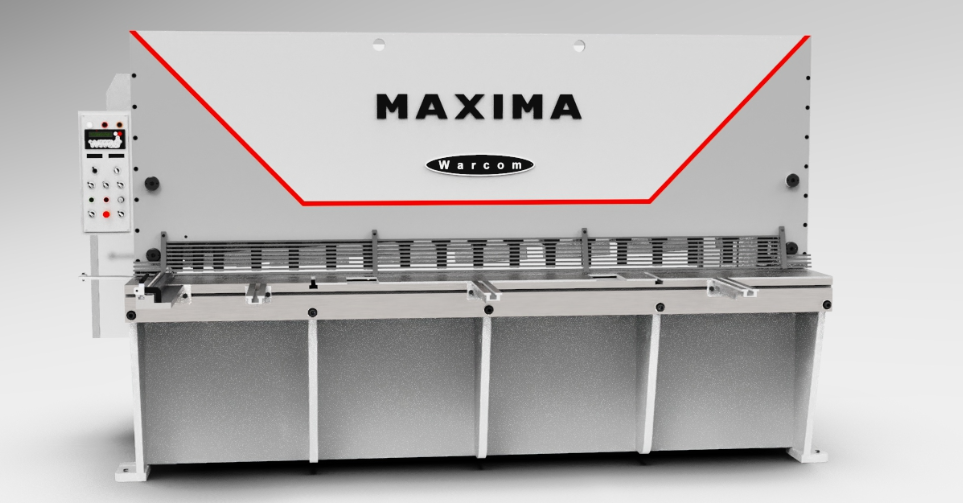 MAXIMA
MAXIMA is a simple and reliable shear with an excellent quality / price ratio for all carpentry work. Even if today large productions tend to move towards more flexible cutting technologies such as plasma and laser, the shear remains the fastest and cheapest way to cut sheet metal and MAXIMA is the ideal completion machine in any industrial sector.
Quick and easy programming, sturdy structure and reliable devices are the keys to the success of this shear model which has been a market reference for almost twenty years.
Fiber Laser
Technical Information on the W-Fiber 2020 Edition

W-FIBER
The W-FIBER model laser cutting machines are machines designed to guarantee high productivity, precision and reliability and represent the top of the range of Warcom's fiber laser offer.
They are characterized by high performance with 2G of maximum acceleration and 210 m / min of maximum speed, particularly suitable for cutting various materials including highly reflective ones, and a cutting capacity of carbon steel up to 40 mm thick with source high power laser.
The solidity of Warcom construction and the use of the most modern high efficiency laser resonators reduce maintenance costs and energy consumption to a minimum.
The integrated electrical panel and elegant and compact design allow W-FIBER to keep a limited footprint in the production departments.
The W-Fiber range can be equipped with interlocking systems for automatic loading and unloading of sheet metal and processed pieces and with automatic vertical warehouses.
These interlocks allow to optimize the production process giving the possibility to work with a completely automatic and unmanned plant.
Models and Dimensions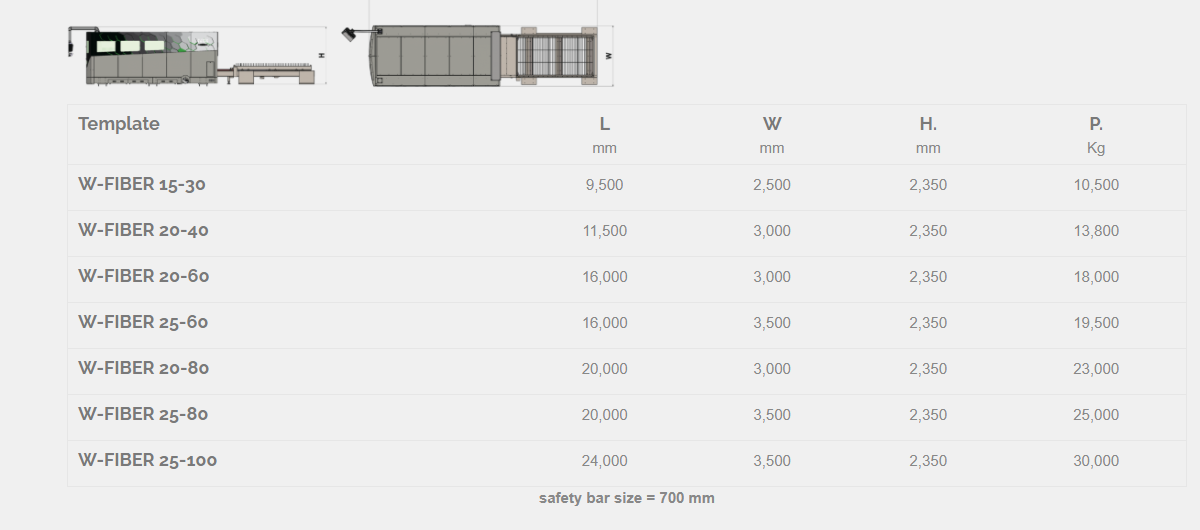 XYZ Axis Travel


Axes Specifications


Cutting Capacity