Located in Illinois
currently under power
Located in Illinois
currently under power
Located in Europe or
On the water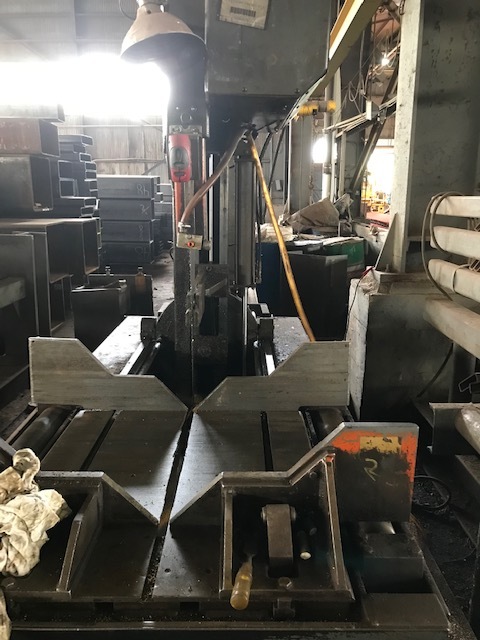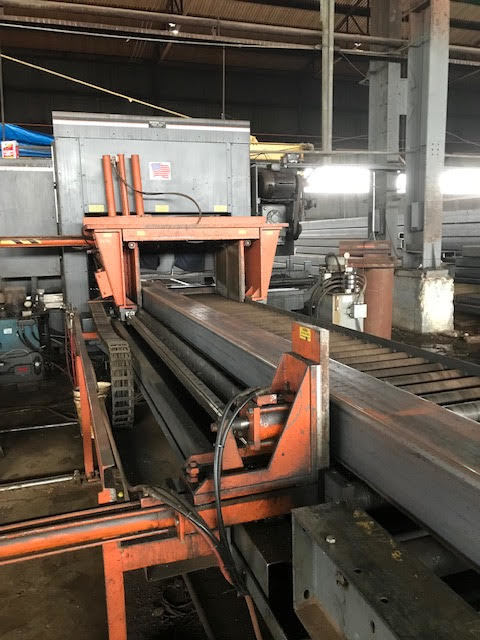 HEM Model V130HM Vertical Bandsaw.
Can be seen under power in IL. 20″ x 24″ capacity
Stock #: 21494 | Year: 2000 | HEM V130HM | Used – Good
DESCRIPTION:
HEM Model V130HM Vertical Bandsaw Can be seen under power in IL. 20″ x 24″ capacity
These HEM Vertical Band Saws are time proven band saw designs for cutting materials up to 45 degrees, both left and right. Capacities for these vertical band saw work horses range from (18-25″) wide to (20-36″) high.
SPECIFICATIONS:
THROAT CAP 24″
WORK HEIGHT 20″
POWER 10 hp
BLADE WIDTH 1.5″
BLADE LENGTH 17.5′
FPM 400
CONTROL CNC (Manual Swing Away)
HEM Model V130HM Vertical Bandsaw
Machine Details:
MODEL …………………………. V130HM
YEAR NEW ………………………. 2000
CAPACITY ………………………. 20″ X 24″
CAPACITY MITTER LEFT ……………. 20″ X 16″
CAPACITY MITER RIGHT ……………. 20″ X 15″
CAPACITY (ROUNDS) ………………. 18″
BLADE SPEEDS (VARIABLE) …………. 72 TO 400 FPM
BLADE SIZE …………………….. 1 1/2″ X 19′
GUIDE ARM ……………………… HYDRAULIC
HYDRAULIC VISE PRESSURE …………. 0 TO 1500 LBS
HYDRAUCIC BLADE TENSION …………. YES
HEAD TILTS ……………………. HYDRAULIC
DIGITAL READOUT DISPLAYS ………… YES
COOLANT ……………………….. YES
MOTOR …………………………. 10 HORSEPOWER
Price: $17,500.00 USD
HEM saw Model WF 190A-DC Capacity 25″ x 44″
Stock #: 21493 | Year: 2000 | HEM WF190LA-DC-C
DESCRIPTION:
HEM saw Model WF 190A-DC Capacity 25″ x 44″
Machine is under power and can be seen working. Machine doesn't include front beam loading table and conveyor table past the shuttle table.
This machine is being sold from our client's facility. We always recommend machine be inspected in person to verify condition.
EQUIPPED WITH:
Swing-Away Control Console
The Control Console is located on the front of the saw, in a swing-away console, for operator convenience.
24″ Roller Discharge Table
A standard Roller Discharge Table provides easier handling after the cut. The table is 24″ in length and is fully coolant panned.
Full Stroking Bi-Directional Main Vise
A Full-Stroking Bi-Directional Main Vise clamps material at the turn of a switch, and holds the ma¬terial in place to ensure accurate cuts. The clamp¬ing pressure is easily adjusted to clamp various materials.
Carbide Blade Guides & lead In/lead Out Roller Guides
A blade guide system is composed of side and back guides, which are flat carbide inserts. In addition to precision-ground flat carbides, roller guides are used to reduce vibration when cutting hard materials.
Built-In Flood Coolant System
The saw has a totally built-in coolant system with sealed coolant pump, with coolant that is dispensed through a flex-tube nozzle to flood the center of the cut. A cutting fluid clean-up hose is provided for machine wash down.
Adjustable Feed Rate & Cut Pressure
The saw arm Feed Rate can be adjusted from zero to 3 inches per second. Cutting pressure can be adjusted for effective metal removal rates.
Blade Brush
A shaft-driven Blade Brush is standard for positive removal of metal chips that lodge in the blade gul¬lets. This system ensures a cleaner blade, more accurate cuts, and prolonged blade life.
Push Button Blade Speed
Blade speed can be adjusted with an infinitely variable speed drive from the console with push button controls. The blade speed is shown on the console with LED Readout.
Powered Guide Arm
The Powered Guide Arm provides optimum blade support as material size changes. The guide arm works in conjunction with the main vise to adjust automatically while holding the blade securely, providing straighter cuts and longer blade life.
Powered Blade Tension
The Powered Blade Tensioner maintains proper blade tension at all times during the cut, compensating for blade stretch. Changing blades on the saw is done in minutes, with the use of the Powered Blade Tensioner.
Emergency Stop
The saw is equipped with a safety Emergency Stop cut-off switch. This allows the operator to closely monitor the cutting process and quickly stop it if needed.
Other Safety Features
The Safety Lockout Key is used to disable saw operation during maintenance.
The saw will automatically shut off if the blade breaks, shown by the Broken Blade Indicator.
The Panic Stop halts all automatic functions.
SPECIFICATIONS:
RECT-CAP (H) 25″
RECT-CAP (W) 44″
POWER 15 hp
BLADE WIDTH 2″
BLADE THICKNESS 0.063″
BLADE LENGTH 29′
General Info
Stock #: CD-B-210022
Location: Chicago, IL
Brand: HEM
Model: WF-190A-DC
Loading Fee: Rigging Required
Specifications
Round Cut Capacity: 25″
Rectangular Cut Capacity: 25″ x 44″
Blade Size: 2″ x 29′
Blade Speed: 70-500 SFPM
Motor HP: 15
Electrical: 220 / 440 Volts
Amperage: 60.2/30.1
Equipped With
WF190A-DC-C Controller
Additional Info
Price: $37,500.00 USD
TOS W100A Horizontal Boring Mill 4″ Spindle, Rebuilt, SONY scales, Ready to ship
Stock #: 21512 | Year: 1997 | TOS VARNSDORF W100A | Used – Rebuilt
LOCATION:
United States
DESCRIPTION:
TOS W100A Horizontal Boring Mill 4″ Spindle, Rebuilt, SONY scales, Ready to ship
TOS VARNSDORF a. s. situated in Varnsdorf, Czech republic has a years-lasting tradition in machine tool production. TOS VARNSDORF's product program is based on horizontal milling and boring machines of medium class.
The firm was founded, under the name of Arno Plauert Machine Works, as early as 1903 and up to now gets up into a big engineering company known with its products all around the world.
The machines are characterized with high performance, progressive design and reliability whereby these properties are a result from all the time-proven experience of engineers with the current state-of-the art. The machines can be found on the world's most demanding markets. At present the biggest ones are Germany, Czech Republic, Finland, Poland, Russia. The sales are progressively growing in China as well as other countries.
EQUIPPED WITH:
23″ Diameter facing head
4 axis DRO
Tailstock
SPECIFICATIONS:
SPINDLE SIZE 4″
X-HORIZ TVL OF TABLE 63″
Y-VERT TVL OF HEAD 44″
POWER 15 hp
RPM 1,120 RPM
TABLE-W 49.2″
TABLE-L 49.2″
SPINDLE TVL. 35.43″
CONTROL CNC (4 axis DRO)
DIMENSIONS 264.1″ X 135″ X 118"
WEIGHT 6,614 lbs
USED 1997 TOS W100A manual horizontal boring mill
SPINDLE DIAMETER 3.9″
SPINDLE TAPER ISO 50
SPINDLE TRAVEL (W) 35″
TABLE CROSS TRAVEL (X) 63″
HEAD VERTICAL TRAVEL (Y) 44″
SADDLE TRAVEL (Z) 49″
SPINDLE SPEEDS 7- 1120 R.P.M.
WORK TRAVERSE 35 INCHES PER MIN.
RAPID TRAVERSE 110 INCHES PER MIN.
MAIN MOTOR POWER 15 HP
TABLE SIZE (ROTARY) B 49″ x 49″
POWER TRANSFORMER REQUIRED
TABLE WEIGHT CAPACITY 6,620 LB
DIMENSION OF MACHINE 264.1″ X 135″ X 118"
MACHINE WEIGHT 30,860 LB
Price: $99,500.00 USD